Contract Therapy

Compliance and Quality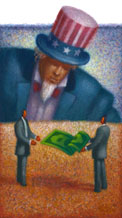 "In today's environment of increased scrutiny of corporate conduct and increasingly large expenditures for health care, it is imperative for nursing facilities to establish and maintain effective compliance programs."
56848 Federal Register/Vol. 73, No. 190/Tuesday, September 30, 2008
The quality of your contract therapy vendor's Compliance Program and business approach are some of the most overlooked yet potentially biggest risk areas in your facility, as they directly impact your Compliance Program, revenue and quality of care. Marden's unparalleled approach ensures that the proper steps have been taken to protect your revenue and reputation while delivering the highest quality therapy services to your residents.
The prominence of healthcare provider compliance programs grows daily with increased enforcement initiatives by the federal government. Denials, Probes and Credential reviews are becoming increasingly more common, and they can directly attack your bottom line, resulting in huge returns to the government.
At Marden, because we are a provider ourselves, we not only help you understand your risks, but show you how we manage and mitigate them for you. We bring Total Care With Total Confidence for the life and well being of every resident, and ultimately, the life and well being of your Skilled Nursing Facility.
We encourage you to click the links below as we remove the shroud of mystery from contract therapy services, and find out why Marden is the superior choice.
Common False Assumptions About Contract Therapy Compliance and Quality